The Philippines is filled with breathtaking and amazing places. It would be such a joy to discover its most scenic areas where we can find solace, serenity and enjoyment as we give importance to our mental and physical wellness. So here at Conektome, we have our Travel Blog Series to help you have a preview of what you will experience if you visit the country's  different islands or regions.
For the third installment of our Travel Blog Series, we are pleased indeed to have the chance to interview this beautiful, intelligent young lady who is an adventurer and of course a nature lover!  Ladies and gentlemen, meet Ms. Rochelle Enrera, a DOST scholar and a Geology student of the University of the Philippines:
Let's start with general questions first. Would you consider traveling an important part of a person's life? If yes, why?
Yes, definitely!
First, it will help you relax and unwind.
It is the best time to set aside your worries for awhile and to focus on the scenes, foods, and activities you have planned out for the day. After enjoying all of these, your experiences can actually be the best source of motivation to work hard and travel again!
Second, it will help you discover/rediscover yourself.
You will learn more about your likes and dislikes. You will be able to try new things and activities you've never imagined you can do or wanted in the first place. Some aspects of traveling will test your patience and endurance especially in dealing with sudden and stressful situations. At the same time, traveling will make you learn more about those people you are with, which can strengthen your bond in the long run.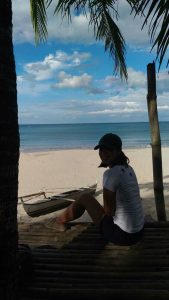 Third, traveling allows you to witness magnificent views and is a gift for those who love to take photographs.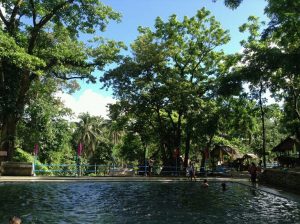 All those memories and experiences during your trip can be preserved for a long time – and can be viewed over and over again whenever you need a stroke of inspiration.
Fourth, you will learn a lot about our country and those people living in the areas you visited – their experiences and stories.
You will learn history, experience the amazing hospitality of Filipinos, and taste exotic cuisines from different places. It can add so much value to your life, and you know what the best part is? Whatever you learned while traveling will remain with you all throughout your life and will make you a better person, as a whole. Personally, traveling made me grateful for everything that I have, no matter how small it is.
What type of travel holidays would you prefer? Adventure, relaxation, etc? Alone or with companion or companions? And why?
I prefer both adventure and relaxation, depending on my mood and the people who I am with during the trip. Excessive stress can be released through hikes and long travel hours. Catching up with friends after months or years without seeing each other can be best experienced during relaxed trips, where you can have ample time to talk and listen to their own stories.
I have always traveled with a group of people. It is fun to be with other people and it is always less expensive since there are others who can contribute to lodging, food, and transportation expenses. But I would love to try traveling alone in the future.
What are the DOs and DONTs in traveling for you?
DOs – Ask questions – about directions and the best restaurants/carinderia to try out.  Be considerate. Take care of the place your visiting and most importantly, enjoooy!
DONTs – Don't be arrogant. Always be polite especially to locals/guides. Don't be a source of headache/stress to other people.
What would be your advice to newbies who have limited budget yet still wish to travel?
Look for places which can complement your budget. It doesn't matter where, what matters is you are ready to enjoy and you are willing to experience and savor all the experiences. You can also join group tours which can save you a lot of time (logistics, planning) and money.
I think it will boil down into how much you want to travel or to go to this particular place. If you want it that bad, then I think you'll do your best to set aside enough money to travel. 😊
Personally, I only start to travel when I began working. I was influenced and get invited by friends in short trips or hikes. For the past few years, most of my trips involved school-related fieldworks. There were times after fieldwork where I stayed behind with friends for a few days to go around the place mainly for leisure.
Let's be specific this time.  What's your most favorite place in the Philippines? What makes it stand out for you?
Before I mention my favorite place in the country, I would like to speak briefly about this one place which has a special place in my heart — Linapacan Island in the Calamian Group of Islands in Palawan.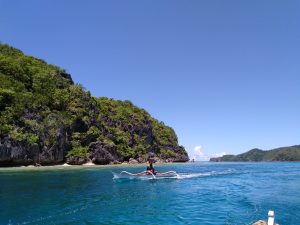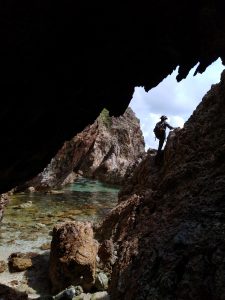 To say that the place is magnificent is an understatement. You have to visit the place to see the pristine beaches – most islands/islets are inhabited except for some islands which are privately-owned. On top of that, there are relatively few tourists visiting the area, maybe because of long travel hours and less social media exposure, unlike Coron and El Nido.
Now let's focus on my favorite place  – Sorsogon!
It is HOME and that's what makes it truly stand out from all the places that I've been to. Detailed description in the next item.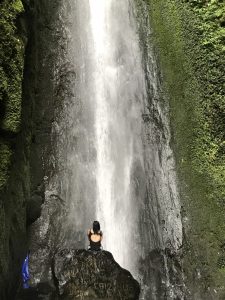 Does this place has its own souvenir products, special foods or significant places that are worth recommending to tourists or travelers?
Yes, there are a lot of souvenir products that you can choose from – sili and pili nut keychains, pili candy, abaca bags, and many more. Most of these products can be found in the market or souvenir stores along the road. We love food with coconut milk and chili – lots of it! (Disclaimer: Not all Bicolanos love spicy food HAHA) But I highly suggest for you to try our cuisines first before deciding whether you love spicy food or not.
There are a lot of places that you can visit in Sorsogon!
I haven't been to all but I can ask you to visit these places, at least:
Orok Cold Spring Resort, Casiguran, Sorsogon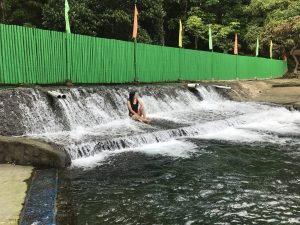 The name says it all, the water here is freezing cold and is perfect to visit during the Dry Season. If you want to maximize your stay here, it's better to visit it during weekdays, early in the morning, around 7 – 8 a.m. so that you can freely choose your cottage and have the pool all to yourself for a few hours. If the volume of people becomes too much for you to bear, you can opt for a 20-minute trek from the resort to reach Nagsipit Falls – where you can treat yourself to refreshing cold water, scenic view, and less crowded spot (hopefully).
Bayugin Falls, Bulusan, Sorsogon
This is just a 20-minure tricycle ride from Bulusan town proper and will require another 20-minute hike to reach this small yet magnificent waterfall. It is surrounded by a thick, mossy forest complete with a wooden bridge that's perfect for "photoshoots". Several meters from the falls is the Bayugin River. You'll find a natural "pool" of clear and calm water where you can relax and soak as long as you want. Halo-halo and isaw in the Bulusan town proper is also a must-try!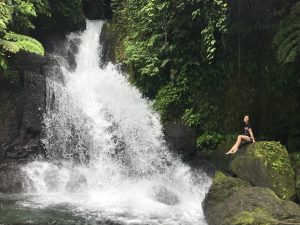 Bulusan Volcano National Park
Enjoy kayaking in the Bulusan Lake or simply look at the beauty of Bulusan Volcano and savor the perfect nature experience in the park. I also highly suggest the canopy walk, albeit a bit pricey for some. You will walk around the lake in a concrete pathway and will go through a few hanging bridges with a beautiful overview of the lake and the mountains. If the alert level of Bulusan Volcano is zero, some mountaineers even climb the volcano to see the crater and observe from above towns of Sorsogon and even be rewarded with a peek of the cone of Mayon Volcano at a distance. It has been my dream for a long time to see the crater and witness the view on top of the volcano but this year, PHIVOLCS raised the alert level to 1 due to the increase in seismic activity and in water temperature. Hopefully, I'll be able to see it with my own eyes soon.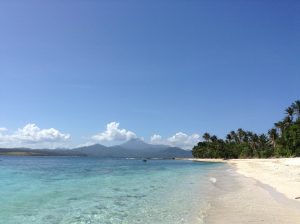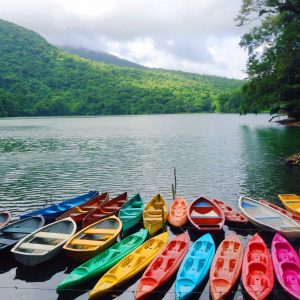 Subic Beach, Matnog, Sorsogon
Famous for the clear turquoise waters and slightly pinkish fine sand, this is another must-visit place in the province. Make sure to pass through the tourism office (near the port) to pay for the environmental fee to have an idea of the standardized rate for boat rental. You'll be able to explore Subic Beach (Subic Liit and Subic Laki) in Calintaan Island, Tikling Island, Calintaan Cave, and try fish-feeding in Juag Fish Sanctuary.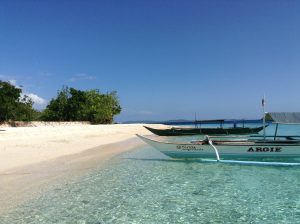 Lola Sayong's Eco-Surf Camp, Buenavista, Gubat, Sorsogon
This is located in my hometown so it has a special place in my heart. It is quickly gaining popularity for the past years not only to surfers but to beach lovers as well. It has been developed into a surfing camp and the cottages are gorgeous and relaxing. You can also eat or drink in the food stalls and restos available in the area. If you don't want to stay in their cottages or you don't want to try surfing due to tight budget, you may simply sit on the beach, sit/lay on the bamboo benches in the beachfront, or simply relax in the hammocks tied to coconut trees.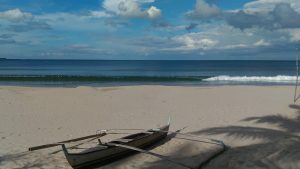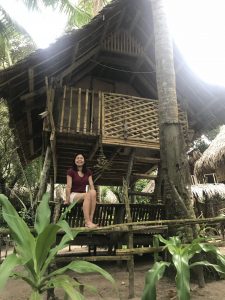 What's the best thing you experience in this place?
Sorsogon is my home so I am able to relax and unwind in these places and simply enjoy the scenery without a lot of stress. I think if you have the chance, I suggest that you try sitting in a jeepney's roof as you visit these tourist spots – the scenes and the fresh air during the whole trip are worth the slight risk. The kindness of the locals is also top notch. Once, out of spontaneity, my friend and I just decided to go for it and visit some of the places we haven't been to even though we are from Sorsogon (We visited Orok, Buklad Resort, Nagsipit Falls, and Bayugin Falls). Since it's very sudden, we weren't able to prepare foods suitable for the trip. A family present in the area noticed we didn't have proper lunch, so they offered to share theirs. It was a sumptuous meal for free and with extra stories from the family.