Here's our second installment for our Teacher Interview Series. We present Sir Aaron Bren Julaton of Caloocan Science High School, Metro Manila, Philippines, on his passion for teaching and his experience on stock investment:
1. How long have you been teaching?

I have been teaching since 2010 right after I graduated from the Philippine Normal University. It's been seven years already…
2. Do you have a teaching philosophy?

No particular single teaching philosophy governs how I teach my students. My only purpose why  I'm teaching is to educate my students to become learners of the 21st century in their intellect and in their hearts.
My aim is not only to teach them the scientific concepts that they need to learn but more than that, the values that they need to carry on for the rest of their lives. In my class, I want to make sure that the students will imbibe the culture that we are setting (That is the culture of excellence) and that they will be able to carry on the discipline that they were trained to have.
3. What are the highlights of your teaching career so far?

Highlights?? Well.. Every day there is a highlight. Every year there is something to look forward to and there is something that is worth remembering.
4. What's the hardest part about being a teacher?

That is when you try your outmost effort for your students to learn, but still some of them will not get it. All you have to do is do it again and again until such time that they will be able to do it by themselves. PATIENCE is really a virtue that we cannot lose.
5. Is there a particular person or are there persons who had an impact on you and on your teaching profession? Why and how?

I could say that my former teachers were my mentors. From them I get my style. From them I pick up bits and pieces of strategies that I found effective.  Join them together and that is the kind of teacher that I am now.
6. What's the teaching method that you can consider to be most effective and should also be implemented by would-be teachers?

I am a fan of Problem Based Learning strategy. I want my students to solve problems on their own. With us (teachers) as guide, we can help them realize different things here. In this way also, students will be responsible for their own learning.
I am the teacher who will always want to highlight values.

I always want my students to realize the values embedded in every science concept and in everything that they do. These values and the values system that they will develop in solving problems are much more important to me than how will they be able to solve the problems. These values are what will define them and what will become of them in the near future.
7. How do you envision the educational system in the Philippines? What are the developments or improvements you'd like to see?

One good thing about our education system in the Philippines is the kind of teachers that we have. We have very dedicated teachers who will do everything for the sake of their students' learning. I want to see more of them. I like to see more teachers who are willing to take the challenge of improving themselves to improve their learners – those teachers who are independent, creative and resourceful in terms of creating learning environment suitable for their learners. We need more of that.
Technology is advancing very swiftly. Educational technology is also evolving. What the country needs, aside from these new educational technologies, are teachers who know how to create and appropriate learning environment that will suit the needs of their learners. They are those teachers who know how to use a simple object and use it in the classroom for their students to learn. Technology is important. But is useless if we do not have teachers who know "TEACHnology".
8. Do you have any advice to young people who would like to become teachers someday?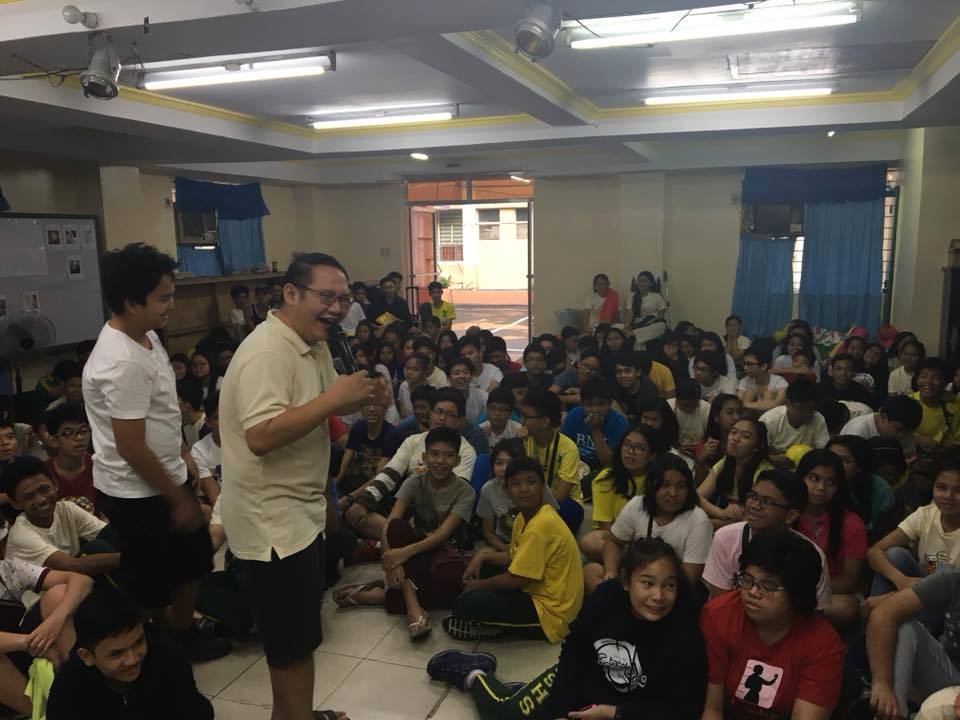 Just don't be afraid.
Don't be afraid to share yourself to your students. After all, that is our mission in life – TO SHARE. Whatever that may be, share. Share your thoughts, your learning, your realizations, your happiness, your frustrations, your joys, your triumphs, your failures, your emotions, your love, yourself. Share every single thing. After all, you will not lose anything when you share. You will actually multiply it.
9. On a lighter note, we've learned you're into stocks too. How's your experience with your investment? Are you gaining or can you consider it a series of unfortunate events on stock investment so far? (Laughter)

Hahaha. I am with stocks investments for years now. I have actually invested a little amount of money. What is funny is that that little money is still little now.. hahaha.. maybe I should learn more about how to manage my finances well. How I wish that someday, these investments will return to me in millions of profits.. haha.. That is what I am dreaming about. I am hoping that someday, I will wake up with my dreams coming true.
10. How do you balance work, investment and personal life? Will you also encourage your students to invest in stocks?

It is very difficult to balance. But one thing, we should enjoy all these things. We thank God because we have them. We are blessed with them. And one way to thank the Lord for these is to enrich them. Let us make our works flourish. Let us make our investments grow. And let us make ourselves worthy to receive these blessings and the next blessings are bound to come in our lives.