One of the factors why we are where we are right now is because of our teachers. Without their patience, guidance, and dedication to teaching, we would find it unimaginable to be who we wish to be and what we want to achieve in our lives.
That's why this World Teachers' Month, we will again feature teachers who have sacrificed a lot to help their students fulfill their dream of having a good foundation in education.
It is our pleasure to present Ms. Laiza Tabuzo Vitug, a science teacher at the Camarin High School in the Philippines, for our Teacher Blog Series this year. Here's our brief interview with this beautiful woman and be inspired by her life journey as a teacher.
1.  How long have you been teaching?
12 years.
2.  Do you have a teaching philosophy?
Teach with a transformed mind and a clean heart.  Only  pure intentions can enlighten the darkest mind. Teaching should not be based on satisfying one's pride. It should be focused on helping students become better versions of themselves.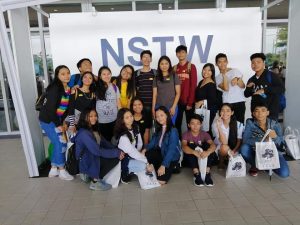 3.  Is there a particular person or are there persons who had an impact on you and on your teaching profession? Why and how?
Sir Raymundo Limcolioc, our Department Head. He trusts my ability. Even if sometimes I have doubts in myself, he has never doubted me.
The first opportunity that I accepted was being a Research Adviser.  On my first year as an adviser in year 2016, our school won third place out of 31 entries for the division science fair. It was our first time to join a Research competition.  Since then, we always have a place in every competition that we are joining even though we lack financial support. Our most unforgettable win was the DOST-Regional Inventions Contests and Exhibit where we ranked fourth out of 10 winners.
Our Department Head is always giving me an update about different opportunities and he always encourages me to submit the requirements for qualifications. I was able to take part in the Seminar on Nuclear Science for Teachers at the Philippine Nuclear Research Institute (PNRI) because of him. Without his constant update and encouragement, I would have missed the opportunity.
I got to experience being a speaker in our In-service Training because of him as well. He instructed me to submit my papers to see if I was qualified or not, thought it was the division who would decide. He never ceased to inform me of the deadline and forced me on the last day to submit my papers, then I was chosen.
He keeps on reminding me to pursue a Master's Degree so that I will be promoted. Since I am voluntarily working for the department, he wants me to be paid for that by being promoted.
The Division opened a promotion for teachers with 5 years and above in the service even without MA units, and he never let me missed the opportunity. I submitted my papers and my application for Teacher 2 was approved.  I also experienced being a judge in Research, Quiz Bee and poster making through his support.
4.  What's the teaching method that you can consider to be most effective and should also be implemented by would-be teachers?
Inquiry Based Approach. Involve the students by letting them think. Students nowadays are no longer giving effort to answer questions or solve problems because they do not want to think. Without even trying they will just say that it is hard. To make sure that they will listen, ask them questions that they will be able to answer only if they are listening. Often, I am starting with an analogy or questions that can be answered through observation. Always start with the Lower Order Thinking Skills then to Higher Order Thinking Skills (H O T S).
5.  How do you envision the educational system in the Philippines? What are the developments or improvements you'd like to see?
I envision an educational system that focuses on character building because the real problem is the attitude of students towards their study. I also see an educational system that is training teachers to be well equipped on the subject matter and giving teachers full control on how to handle the teaching-learning process since teachers are the ones who see the real situation inside the classroom.
6.  Do you have any advice to young people who would like to become teachers someday?
If they want to be rich, do business.
If they want to serve, be a teacher because future leaders depend on us and the challenge is, how are we going to shape the future generation? Do not just train the young minds to be good at everything. It is OK not to be above at all times, nobody's perfect. What matters most is whatever happens, they will not quit and in everything they do, they always give their best.
Teach from the heart. Love your students. It is OK to be angry sometimes but make sure to be angry because of love, because you do not want to see your students doing wrong. Be angry to correct them and not to judge them.
7. You were a DOST scholar and one of the most remarkable graduates of the Philippine Normal University. We're proud of you! Do you have any advice to our current undergraduate scholars, and to the aspiring applicant-students who will be soon be taking the DOST exam?
Being a DOST scholar is an opportunity. People, upon knowing that we are scholars, think highly of us. "Pagtingin na hindi natin hinihingi pero kusa nilang binibigay".  But do not let that image sink in, because if you do, you will end up being a proud person. Be humble! Remember, you are shaping the future generation, not yourself.  There is nothing to prove on your part. You made it already. Do your job! It is OK if you will aim for promotions, recognition, and the like, you deserve that especially if you are doing your best, but never forget the very reason why you chose to be a teacher.  If it is not clear to you, think again before taking an oath for Teachers.  And once you get promoted, don't just take the pay. Work for it, work to serve, work to shape the future generation.
I will just share my life verse as a teacher.
#Proverbs 22:6  "Train up a child in the way he should go: and when he is old, he will not depart from it".
8.  On a lighter note, may we know how an intelligent, beautiful and responsible person like you avoid pressure and stress? Would you give the would-be teachers some tips on how to balance work and personal life?
Meditating on God's words is the only way to avoid pressure and stress. If you are tired, learn to rest. It is OK not to be perfect. Live out of the expectations of the world because you cannot please everybody. And most importantly, serve as if you are serving the Lord.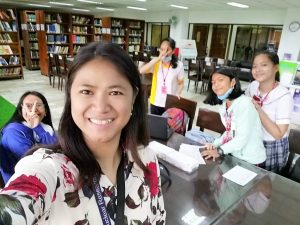 Communicate with your loved ones the nature of your work and find time to be with them. No matter how busy you are, keep the communication alive.