Teachers play a huge role in planting the seeds of greatness in students.  They are part of every success and achievement of all of us! So here at Conektome, we always pay homage to these individuals whose dedication, sacrifices and efforts for their chosen profession are just beyond compare. Featuring them means appreciating and thanking them for all their hard work.
Today, we take pleasure in presenting Mr. Marc Vener Del Carmen who teaches at the Congressional Integrated High School in Dasmariñas, Cavite, Philippines.
Be enlightened and get inspired about his life journey as a Science teacher and as a student as well.
Here's our interview with Sir Marc Vener, an extraordinary teacher:
1. How long have you been teaching?
I'm in my fifth year of teaching. I was an instructor in Centro Escolar University for a year after I graduated from the Philippine Normal University (PNU). A year after, I applied and got accepted in a public high school, which is also my alma mater, Congressional Integrated High School.
2. Do you have a teaching philosophy?
My answers to this question give light to me as a teacher. My personal credo is to stay as a proactive innovator. There are so much we can do for our education system, and everyone has a solution to offer. We just need to take action, have courage to initiate and push a solution. Innovation is an ace card for new and incoming teachers. The system is too old that even a tiny piece of innovation will help a lot.
As a DOST-SEI scholar in the BS Physics for Teachers program of PNU, I found myself distanced from the level of my classmates. They were all honor students and many came from science high schools. I felt intimidated and thought that I was out of place in the section. Fortunately for me, I refrained from entertaining my own negativity and only worked hard to be as good. This was because I was studying through the good faith of the scholarship. In my first semester, I read a lot of books more than I could previously imagine! I studied on my own and improved some of my skills, especially in Math.  After a semester of just merely surviving, I realized that I could be more powerful when I focused on developing myself. So I decided to direct my enthusiasm in developing my teaching skills. I grabbed every opportunity to test theories into practice in subjects with reporting activities. After some time, I tried to inject new things I could think of to further improve myself.
3. Is there a particular person or are there persons who had an impact on you and on your teaching profession? Why and how?
All my teachers are very important to me. I always try to acquire good points from all of my teacher (kindergarten, elementary, high school). In fact, I really exert effort to stay connected to them. I learn much more from them now that I am a teacher already.
In my teaching craft, Prof. Crisanta A. Ocampo really enabled me to become a great classroom teacher. I am really proud that I can create and implement high quality lesson plan because of her. Co-teachers are commenting that I always seem to have grand demonstration teaching when they pass by my classrooms. I am able to showcase this skill of mine by having a lecture and demonstration teaching about ICT integration to inquiry approach on three batches (30 teachers per batch) of Bangladesh teachers as our school partners with SEAMEO–INNOTECH.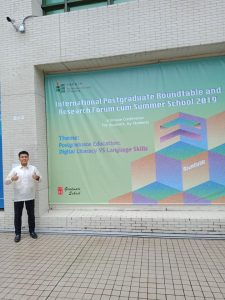 I also do researches in school. In my first year in CIHS, I, with a co-teacher, won as best oral presenter in an action research conference in City Schools Division of Dasmariñas. This achievement was because I did my undergraduate thesis with the guidance of Dr. Paz Marie E. Morales. I am always confident in doing researches because I really learned a lot from her. Her hard work always seems effortless, and this also pushes me to work more. She is always a model of excellence to me.
Prof. Brando C. Palomar has a great impact on me as a teacher. More than the advice and guidance he always has for me, what I have acquired from him is his selfless dedication to his students. I always try to become a great Science teacher through teaching as much content I can and showing to students its importance and majesty.  But what I love the most in my teaching career is to set the stage for the greater success of my students. I invest more in creating a lot of learning opportunities for my students. I always try to help my students to discover, develop, and showcase their talents. I also want my students to develop correct attitudes towards learning and good moral values, and I do it by being a good role model as much as I can.
Mrs. Marian S. Penales and Mr. Jeffrey M. Penales are previous teachers and now a family to me in the school. I am very blessed to be guided by them inside the school. Just being acquainted with them has helped me evolve as a dedicated public servant and a family to students I encounter. At the start of my career, I was hesitant to invest emotions to my students.  I was afraid to get too attached, but what I learned from them is that a teacher can give dedicated love freely because that's how it is.
4. What's the teaching method that you can consider to be most effective and should also be implemented by would-be teachers?
More than a specific teaching method, what teachers should do is to always give time preparing for each class he/she has. Prepare for each of your class. As much as possible, do not just have a generic preparation for all.  It may seem ideal, but even a small change will matter a lot to cater to the needs or characteristic of a certain class.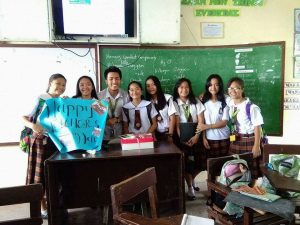 There will be a time when you have a lot of tasks to do (school forms or ancillary, graduate school, additional job), but try not to sacrifice the time for preparation for your class.
5. How do you envision the education system in the Philippines? What are the developments or improvements you'd like to see?
The Philippine Education System needs a lot of help. I highly encourage everyone who has the concern and capabilities to stay in our education system. If you want to improve the system, you must endure our educational institution. Don't leave. Actively try to help change it for the better.  Be part of the improvement. This is our way of helping our country's youth.
6. Do you have any advice to young people who would like to become teachers someday?
For those who are in the track of being a teacher, I'm glad you decide to take it. The road towards being a teacher is far easier than when you're already one.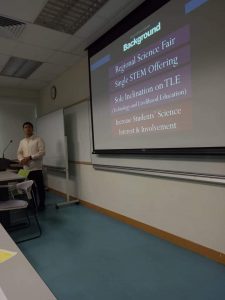 The journey to teacherhood is short and sweet.  Enjoy it, but please try to actively absorb learning as much as you can, and proactively improve yourself. Study not just to pass or gain honors, but to be highly-skilled beginning teachers.  This will help you establish yourself in the school you'll be part of. You'll be flexible enough to follow and endure, yet at the same time adamant to do what's not right, then perform what's needed to be done.
7. You were a DOST scholar and one of the most remarkable graduates of the Philippine Normal University. You achieved a Latin honor (magna cum laude) and you continue to earn success for all your hard work. You have also finished your Master's Degree at a young age! We're proud of you! Do you have any advice to our current undergraduate scholars, and to the aspiring applicant-students who will be soon be taking the DOST exam?
The DOST–SEI family is always helpful in many ways. More than the financial support and benefits, the moral support and culture of excellence give you an additional boost others cannot give. After you graduate, you also have a great family network that can help you in voluminous ways– more than you can imagine. Give your best in trying to be a scholar. The DOST Scholarship exam is an opportunity you get…. And WORK HARD FOR. Some say you cannot review for it, for it tests the potential, but reviewing can make a difference. Give your best shot! It will be all worth it!
8. We are excited to know about the INNOBOX contest of the DOST. Out of the more than 70 Science teachers who joined this contest, you've won!  Will you enlighten us about this contest and about your winning entry? And would you like to encourage all teachers out there to try joining Innobox too?
The Innobox contest is about developing innovative materials for teaching science. My winning entry started as undergraduate research with Ferdinand Diano, under the tutelage of Dr. Abel Ole and Dr. Paz Marie Morales. The instructional material is "PISIKLABAN" or Pisika sa Laro ng Lahing Pinoy". It is an activity book that features eight mechanics activities integrated to eight different Laro ng Lahi. In the competition, I improve the initial material to fully complement in a regular public high school.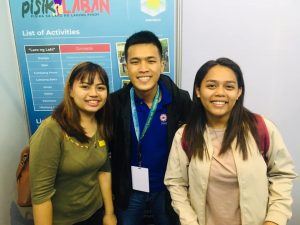 I encourage everyone to join the event. It will be a fun funded adventure of innovating instructional materials for your students.
9.  Any other success stories and achievement you'd like to share with us, such as seminars and other events you have attended or participated in? We'd like to know because you inspire us so much! A lot of students will consider you a role model.
Every teacher story is a success story. Each one who wants to be a teacher has his or her own good reason or purpose. So each time you want to evaluate yourself, remind yourself of your own purpose. I'm sure that during the time you are contemplating and evaluating yourself as a teacher, many fun and fulfilling stories will come rushing into your mind.
I hope that someday we'll have the opportunity to meet and share stories of our everyday success and achievement being a teacher.
10.  On a lighter note, may we know how an intelligent, good looking, and responsible person like you avoid pressure and stress? Would you give the would-be teachers some tips on how to balance work and personal life?
Pressure and stress are always present. You'll just learn to ignore them as you maintain a habit of giving your best in any kind of work, petty task, routine job, or special order. Balancing other aspects of your life, like family and lovelife, is a very tricky challenge. It is something very different for everyone. It is a daily challenge to balance everything up. The only reminder I can give, is try to avoid giving up one of any of these aspects. Always find the strength to keep every important person or thing in your life.