We continue to celebrate the World Teachers' Month, so here's our fifth installment for our Teacher Interview Series. It is such a pleasure to present to you Mrs. Michelle Miramonte-Carranza of Pasay City National Science High School, a dedicated Science educator who is tirelessly in pursuit of excellence on her chosen career. Here's our brief interview with this pretty lady who teaches with her heart:
1.  How long have you been teaching?
I have been teaching for 13 years now at the Pasay City National Science High School. I plan to continue teaching until I retire.
2. Are there any other fields or profession which you want to pursue, or has it always been teaching for you?
I wanted to become a banker or a business woman. Yet when I was still a child, I also dreamt of becoming a teacher. I used to play as a teacher in front of my imaginary students. I even had my own blackboard and chalk.
 3.  Do you have a teaching philosophy?
Yes. "To teach is to inspire". My students are my greatest accomplishment. Knowing that I inspire them to be their BEST inspires me to do my BEST as a teacher.
4.  Is there a particular person or are there persons who had an impact on you and on your teaching profession? Why and how?
All my superiors. They have molded me to become a better person. I used to be one of those teachers with low self esteem. But because of them, I gained confidence. They guided me to be a mentor and also to be a person with good judgment. Aside from my family and friends, they have become my inspiration and my motivation.
5.  What's the teaching method that you can consider to be most effective and should also be implemented by would-be teachers?
I think Inquiry-Based Approach. In this method, you guide your students to become critical thinkers. Students are given activities and questions that will challenge them to think and use scientific skills to address the problem.
6.  How do you envision the educational system in the Philippines? What are the developments or improvements you'd like to see?
I envision an educational system that instills the value of competence, hard work, and perseverance. I appreciate all the subject areas, especially the subjects that taught me values, and the basics of home economics and livelihood. It helps me survive everyday challenges.
I would like to see an educational system manifesting an intensive program that's geared towards caring for the environment, and supporting the concept of agriculture and food industry aside from uplifting the technology.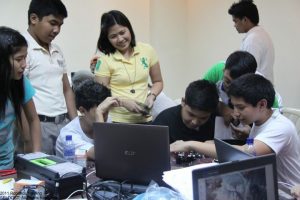 7.  Do you have any advice to young people who would like to become teachers someday?
"Teach with a heart"… when you learn to listen to your students, you will understand them better… and they will learn to respect you more.
8. Currently you've been chosen as a finalist for the Search for Outstanding Public Servants. Congratulations! Would you tell us more about this award?
The search for outstanding Pasay City public servants is a Knights award sponsored by the Col. Jesus Villamor Assembly. It aims to give recognition to outstanding public servants/employees on their dedication for exemplary services. It also aims to instill public service awareness among employees of the local government within Pasay City.
I am happy and grateful because I became one of the 16 finalists from different public offices such Department of Education and the Department of Interior and Local Government. I owe this award to my principal, Dr. Efren E. Canzana, who recommended me, and also to all the people who molded me to become a better version of myself.
9.  On a lighter note, may we know how an intelligent and responsible person like you avoid pressure and stress? Would you give the would-be teachers some tips on how to balance work and personal life?
I always remind myself to love my work and stay positive. I am blessed because I am surrounded by people who give positive thoughts and always make me smile. I also believe that when you let God do His will, He will bless you more than you expect.
As a tip, here's what I'd like to say: When things get rough, do not quit… there's always a rainbow after the rain.